Guest village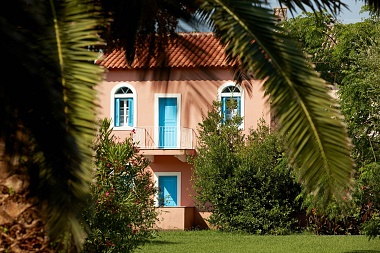 consists of one- to three-storey houses in traditional island style with Venetian influence, varying in architecture and colour shades. Renowned architects have created 80 suites, apartments and studios for 1 – 4 people here, all charmingly different thanks to their individual architecture and fitting into the beautiful landscape.

All are fully air-conditioned or heated, have direct dialling phone, satellite TV, bathtub or shower, WC, fridge, tea- and coffee -making facilities, pesronal safe box, hairdryer as well as a large terrace with furniture, loggia or balcony.
"This hotel is a prime example of excellent adaptation to the landscape and history of its location. 86 apartments accommodating up to 4 people are scattered around the extensive grounds, housed in a large number of individually designed, three-storey island-style houses. Here you'll almost feel like in a Corfuan village, while enjoying plenty of modern conveniences. Just a 100 to 300-meter walk to the beach."

Marco Polo travel guide Ionian Islands – Corfu
"A haven of serenity in the Ionian Sea..."